2nd Lt. Valentine Harold Adams RFC 1892-1917
Pilot, killed in action 4 May 1917 with No 70 Squadron, 9th Wing RFC
This is the story of Harold Adams, an Australian, who came to England to enlist in the Royal Flying Corps in 1916 and served in France with No 70 Squadron RFC through the period known as "Bloody April". He was officially Killed in Action on 4 May 1917, though it seems he was shot dead on the ground by enemy troops in the act of surrendering.

Photo © S Renwick
Valentine Harold Adams, was born in Melbourne, Australia, on Valentine's Day, 1892. Known as Harold, he attended the Melbourne Grammar School where he rowed in the school VIII in 1909 and served in the cadets corps as a Lieutenant in 1910, his leaving year. After completing school he joined his elder brother Arthur running a property called 'Bidgeemia' outside Urana, New South Wales.
Harold Adams paid his own way to England to train as a pilot as there were few opportunities to join the Australian Flying Corps. He was commissioned as a 2nd Lieutenant in the Special Reserve on 1 August 1916. He received his RAeC aviators certificate (No 3691) on 26 August 1916.
By 27 September he had 12 hours flying logged at No 1 Reserve Squadron, Gosport. The training combined academic classroom instruction and dual flight training. Describing this in a letter home he related "The whole time a man is flying&ldots;.Down here the course is pretty stiff and there is really too much to learn in a month and there is an awful lot of night work to be done&ldots;.They teach us 7 engines, bombs, wireless, artillery observation, rigging (3 machines), theory of flight, instruments, cross country flying, metrology, formation of troops and general knowledge&ldots;.to copy out all the notes and drawings properly takes about 200 pages." Trainees only got two chances to pass the pilots' test. He failed his test the first time but was successful the second time. He was appointed a Flying Officer on 21 October 1916 having completed his training (Gazetted 6 November 1916). He was granted his wings on 9 November 1916.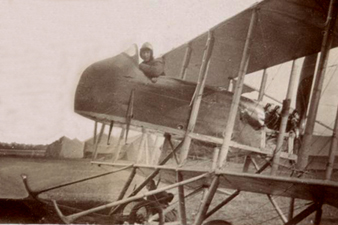 Lt. V H Adams on a Maurice Farman Shorthorn at Gosport
Photo © S Renwick
On 14 November 1916 he telegraphed his mother Ada "proceeding France today". He had a good trip to France although writing home he noted that the railway journey was "the slowest thing I've ever seen. Anyway the carriages were very comfortable which made a lot of difference as we had a wee bit of a sleep." It was starting to get cold: "&ldots;the day before yesterday there was a very heavy frost and yesterday it began to snow and today it is raining". Fortunately, they were well looked after with "very nice warm things issued to us, all leather, fur and wool&ldots;but no matter what clothes one puts on the cold still seems to find a way through".
Lt. Adams was appointed to No 70 Squadron RFC (part of 9th (HQ) Wing), flying two-seat Sopwith 11/2 Strutters in a long range reconnaisance role. The Squadron based at Fienvillers, was commanded by Maj. G A K Lawrence DSO and then from January 1917 by Maj. Arthur Tedder (who later rose to fame in the Second World War becoming Deputy Supreme Commander Allied Forces for Operation Overlord). 70 Squadron had arrived in France in May 1916 and at that time was equipped with an effective aircraft, the first British aircraft with a machine gun synchronised to fire through the propellor. This forward firing gun combined with a rear mounted Lewis gun provided it with reasonable protection for its long range work particularly when operating in formation. First casualties came during the opening Battles of the Somme. At the end of August and beginning of September the Squadron claimed four enemy aircraft destroyed or sent down OOC. Casualties however grew steadily from the middle of September with the arrival of more modern aircraft on the German side. Harold Adams arrived as the battles on the Somme came to a close and there were no further losses over the Winter until March.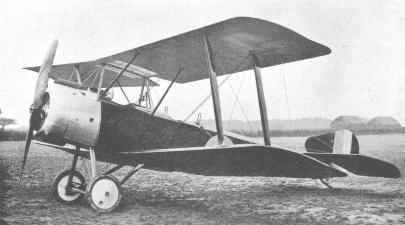 Sopwith 1 1/2 Strutter (photo public domain)
A letter sent by Adams on 26th January 1917 was bleak. "The cigarettes etc haven't turned up yet but expect they will arrive in due course&ldots;.I am so cold that the pen just seems to wander anywhere. Since the snow we've had only solid freeze and it is almost impossible to keep really warm. All my face got frost bitten the other day and it is a picture to look at now – more especially as I cannot shave&ldots;.I was up at 13,500 feet so you can imagine what it was like and we had 2½ hrs of it." Apart from this set-back his letters sound as if he was satisfied with his flying and he mentioned that he had "made (his) place in this squadron now ".
In March 1917 the German Army withdrew to the Hindenburg Line and British forces pushed forward to occupy the vacated ground. During reconnaissance operations over the Hindenburg line on 24 and 25 March, 70 Squadron suffered major losses with seven aircraft lost and three damaged involving 13 deaths, two injuries and two crew taken prisoner. This was a major set back for a squadron of 18 aircraft. The next recorded loss was a month later, during the continuing actions of the Battle of Arras, during a reconnaisssance of nine aircraft escorted by six Sopwith Pups of 66 Squadron; 70 Squadron lost one aircraft and crew KIA, 66 lost one with the pilot taken prisoner, German claims being made by Jasta 33 and Jasta 2. On 4 May while conducting a reconnaissance of new airfields around Tournai a nine aircraft formationof 70 Squadron was attacked by Jasta 8 and had to fight their way home. Lt. Adams and his observer Lt. Pinson were brought down landing behind enemy lines; Lt.s Allen and Franklin were forced to land (West of the lines) after being hit by Ack-Ack the latter being killed. Adams and Pinson's condition were unknown but it was hoped that they had survived. Over the next month the squadron suffered four further aircraft losses with six crew killed before converting from the vulnerable Strutter to new Sopwith Camel.
The commanding officer of No 70 squadron (Major Tedder) subsequently wrote regarding Lt. Adams:
"with a formation of our machines on a long piece of work and when a long distance over the lines our machines were attacked by large numbers of hostile scouts. Lt. Adams' machine appeared to be hit in the petrol tank at the outset of the combat as what appeared to be petrol was seen to be coming out of the side of the machine. His observer fired a coloured light signifying that they would be forced to land and they were seen gliding down apparently quite under control until quite low. Owing to the fighting which was going on it was impossible to watch their machine til it reached the ground. That is absolutely all we know. We have dropped messages over asking for information, but as yet have had no answer".
Lost behind enemy lines it was difficult to determine what exactly happened to the two officers. The Red Cross in Geneva was contacted by the families of both young men and a long correspondence followed. Their aircraft (Sopwith 1 1/2 strutter, serial number: A1001) was last recorded as being South of Roubaix, East of Lille.
It was not until 13 June 1917 that news came through that Lt. Adams reported missing, was now believed to have been killed on 4 May 1917. In a further letter dated 7 July he was reported "killed in aerial fight" by the Cox's and Co Enquiry Office. This was at odds with his Squadron's report of the crew "gliding down apparently quite under control". Finally the War Office wrote on 24 July that "V H Adams appears on an official German List headed 'List of Dead' " which had been forwarded by the Geneva Red Cross. The Red Cross also wrote to say that his identity disc was sent in and that he 'died' on 4 May 1917.
Over the next 19 months various letters were sent to and from the Red Cross in Geneva, the War Office London, the Air Ministry, Central Prisoners of War Committee and the family in Australia and London. For the family this time-consuming and frustrating correspondence culminated in the Red Cross forwarding translated copies of five eye-witness accounts of what actually happened on that 4 May. These sworn statements were from interviews conducted by two local French policemen with: a local housekeeper, a labourer, a young woman, a farmer and a coachman who were all near the scene as the plane glided down behind enemy lines that afternoon.
It appears that on 4 May, at about 12:30pm, these witnesses heard firing from an aerial combat. They saw an "English" aeroplane descend not far from their various locations and each started towards the landing site – a place called "Trois Tetus", near Linselle. At the same time some German soldiers encamped at a nearby farm also made towards the plane. One of the airmen, the pilot (V H Adams), seemed to draw the body of his comrade (probably dead or wounded) from the aeroplane, because he covered it with a cloak after having placed it some yards away, the pilot then set fire to his machine. The German soldiers arrived at the scene and fired on this airman who raised his arms making to sign that he surrendered. Being hit (by gunshots) he fell on his knees with his hands still raised, but the German soldiers continued to fire on him until he was dead. German officers arrived at the site and made the men cease firing and take the wounded man (Lt Pinson) to hospital where he died the next day.
Lt. Ivan Pinson who died of his wounds on 5 May 1917 is buried at Halluin Communal Cemetery. Harold Adams, killed in the act of surrendering, is buried in Linselle where their aircraft had landed.
Harold Adams was the son of an Englishman (Alexander Adams) and an Australian (Ada Adams nee Parker). Although commemorated by the CWGC he is ineligible to have his name next to that of his younger brother, Athol G Adams (killed in Egypt 17 Feb 1917), in the Australian War Memorial's Roll of Honour because he died serving in the RFC rather than an Australian unit; he is however remembered on the Commemorative Roll of Australians who died as members of Allied Forces.
Sources:

Henshaw, Trevor, The Sky Their Battlefield
Jones H A, The War in the Air Vols 2 and 3
Red Cross Geneva correspondence file A17898
War Office correspondence referenced M.S.3.Cas June July 1917, C.2.Casualties.142445/3 11 Jan 1918 and C.2.Cas. 23 July 1919

Acknowledgement:
I am grateful to Sarah Renwick for writing up the detailed source material about her great uncle and allowing me to share it.